A monthly magazine about "Mad Max" series and fan culture.
Please send me your information and submissions about Mad Max !
Vol.3 July Now on sale(2022.June.13)
Cosplay to The Max post apocalyptic gear
Wez, Master Blaster, Max and Post apoc cosplay / AU.JPN.FR
V2A Monthly /UK
MAD SABA α report / JPN
The Stateo / AU
The history of Hudson Mad Max double barrel shotogun / JPN
Price of the first issue : 1100 JPY
A4 /32 pages English and Japanese text

Special set,Vol.1 Vol.2 Vol.3 : 2500 JPY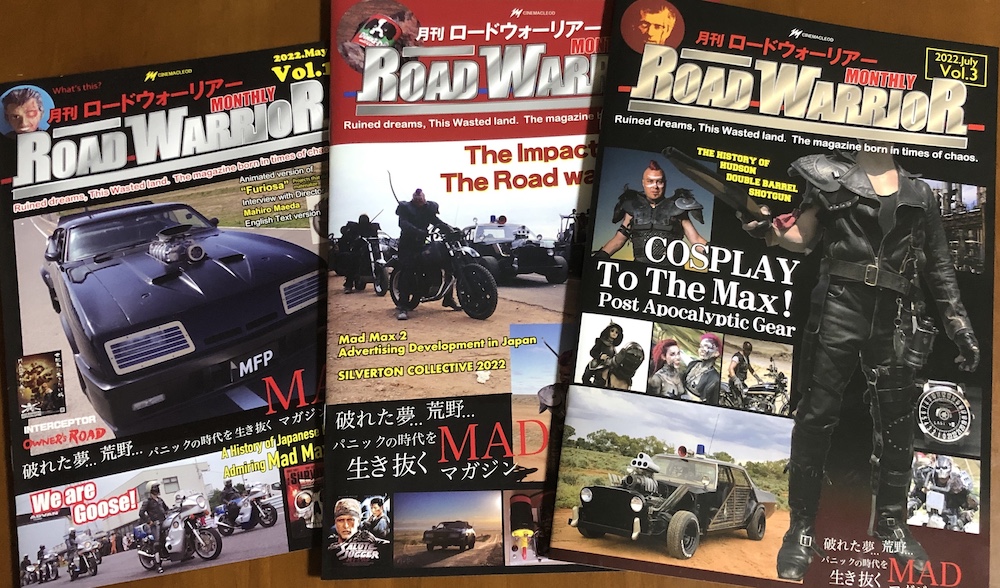 ---
Vol.2 June Now on sale (2022.May.10)
Last V8 cake and Mad Max 2 Booby trap (France)
Silverton Collective 2022 event report (Australia)
WEZ BIKE with Turbo (Japan)
V2A information (UK)
CULT CLASSICS "BLOOD OF HEROES aka SALUTE OF THE JUGGER"
Mad Max 2 advertising development in Japan
and Rare Photos in 1981
Hahoning Drive-in Theater information (US)
Price of the first issue : 1100 JPY
A4 /32 pages English and Japanese text
---
Vol.1 May (2022.Apr.3)
Price of the first issue : 1100 JPY
B5 /20pages English and Japanese text

Vol.1 PDF SAMPLE
---
Payment is by PayPal only. www.Macleod.jp will send you an invoice after your order is placed.
Approx. 300 yen shipping per magazine.
Shipping costs will vary based on order and region.

We ship to Australia and the U.S. by inexpensive airmail.
But now, because of the war, the postal network from Japan to Europe is blocked. It costs more than 2,000 yen to send one magazine.
When this situation improves, we will report here.
If you need something other than magazines, please write the name of the product on the form.
Items linked below can be shipped overseas.Shipping costs will be around 1000 -2000 yen.
---
We are looking for information and contributions from Mad Max fans around the world!
For Vol.5 feature
"FURY ROAD" advertising and promotional materials in 2015
Collectibles
Car and Motorcycle
Costume
Own Activities
Event information 
Question 
And anything else. 

If your contribution is published in the journal, we will send you a copy of the issue and a commemorative gift.
Please send it to this e-mail address
---